Our blogs
How to Build your Health with Chinese Herbs and Medicines?
by Taste For LifeZi JIn Tang 紫金堂澳洲 on Apr 26, 2023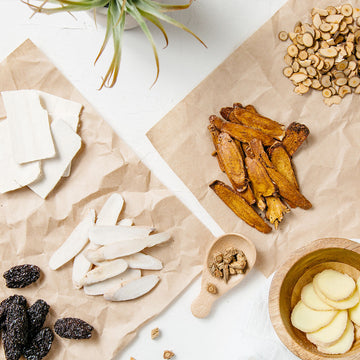 Traditional Chinese Food Therapy: Nourishing Delicacies for Health and Wellness
Every mum at some time has been guilty of reaching for a coffee, chocolate bar or sugary 'energy' drink just to get through the day. And while occasionally this might not be a problem, there are healthy alternatives to sugary drinks and foods that are more natural and nutritional. One option is Taste For Life's famous Fucoidan Ginseng drink which helps build health and stamina with Chinese herbs.
Especially created to fight fatigue, enhance energy levels, concentration, immunity and strength, it has proved transformative for many, changing the way they feel and operate. As any Mum knows being a mum can be exhausting and so any help is always welcome !
Taste for Life's famous Fucoidan Ginseng drink is made using premium herbal ingredients including American Ginseng and concentrated Fucoidan and Fammulina. It has a pleasant flavour, is additive free and uses an exclusive patented extraction technology to get all the goodness out of these natural Chinese herbs.
This drink is very easy for the body to absorb so goes to work quickly, restoring natural balance and repairing physiological function. It is suitable for long-term consumption and helps nourish and strengthen. Even for those mums who are healthy eaters and exercise regularly, they will feel the benefits fast.
Prenatal Care
Taste for Life also has a number of other health products including prenatal care products. There is growing awareness of how important it is to prepare for pregnancy – getting the right balance of nutrition and vitamins gives any pregnancy the best start. For more on Taste For Life's prenatal care nutrition using Chinese herbs and TCM products including Chicken Essence and Imperial Red JuJube Tea.
Health and Wellness
But Taste for Life's Health products don't stop there. There is a health and wellness soup that is full of nutritional ingredients that work to increase metabolism, build collagen (great for breastfeeding mums), improves Qi and energy and helps build bones and joints. Great for those mums who love to jog!
Drink to your Health!
Apart from the Fucoidan Ginseng drink, there are several other TFL health drinks that mums everywhere can enjoy including a delicious Snow Fungus Drink which contains amongst other things collagen, dietary fibre and amino acids to support general health and also to reduce the body's absorption of sugar. Additionally, it helps to build physical strength and a youthful appearance which is why it's always popular with beauty influencers and editors!
There is also a Herbal Care Drink which contains seven Chinese herbal ingredients for nourishment and an Imperial Jujube Tea which is conveniently ready to drink. As mentioned Imperial Jujube Tea is excellent nutritionally for those trying or thinking about becoming pregnant but it has multi benefits too.
Jujube is known in TCM for its ability to tonify the blood (qi), nourish heart Yin and improve sleep quality, blood sugar levels, memory function and digestion. It tastes delicious (with hint of marshmallow) and is antioxidant-rich.
Two compounds that are found in jujube, called flavonoids and saponins, have been shown in studies to increase sleep. Jujube fruit has also been shown to help control spikes in blood sugar and reduce glycosylated hemoglobin in those with type 2 diabetes, which often marks poor blood sugar regulation. Alone Jujube is not a cure-all for high-blood sugar, but it is useful in helping to regulate it. Perhaps the biggest benefit for all mums who still struggle with 'baby brain' postpartum, is that the fruit in the tea has been shown to improve learning capacity and could even support brain growth. Taste for Life's Imperial Jujube Tea really is a winner for Mums everywhere looking to regain health and energy and so much more.
Taste for Life specialises in healthy meals and nourishing drinks that provide nutritional support to help with a number of wellbeing issues. The company is also (and perhaps primarily known) for its postpartum meals and DIY herbal soups (which you can add your favourite ingredients to) and teas packed with superfoods that work to aid women's recovery from labour and pregnancy and improve their breast milk supply and quality. Some of their products also work nutritionally to give women the right dietary platform to help with menstrual problems including heavy cramps and others help to recondition the body after miscarriage.
Taste for Life also provides postpartum nutritional advice and care, a big help to many mums struggling to know what to best for themselves and their babies.